High Performance Home Program Additional Builder Benefits
High Performance Home Certificate
The builder of each High Performance Home will receive a certificate featuring the company's name and information, the home's address and its HERS Index score.
High Performance Home Benefits Brochure
With each High Performance Home, the builder will receive a custom-designed consumer brochure demonstrating the value of a High Performance Home.
High Performance Home Yard Sign
At the insulation stage, we will place a High Performance Home sign in front of each participating home.
High Performance Home Window Decal
At the insulation stage, we will place a High Performance Home decal in a window in the front of the home.
HERS Rating
HERS Ratings are part of the process, so you get the full value of a HERS Rating with computer modeling, inspections, testing and reporting at each phase, as well as a HERS Index score. The HERS Index is increasingly recognized as the international standard for measuring energy efficiency in homes. Appraisers, realtors and lenders are incorporating the HERS Rating System Index into their line of work, giving builders who earn a HERS rating more value for their homes compared to standard new homes without the rating.
Sales Training
We will provide training seminars designed to help your sales agents become familiar with, and comfortable talking about, the High Performance Home Program and energy efficiency in your homes.
Co-Branding Opportunities
You will have the option of co-branding your business with our High Performance Home Program, making your homes synonymous with quality and energy efficiency that are certified as above and beyond the standard. You will receive marketing materials to assist with this effort. Additionally, builders who commit to 100% HERS Ratings for all of their homes are licensed to use the EnergySmart Builder logo and other marketing resources offered by RESNET.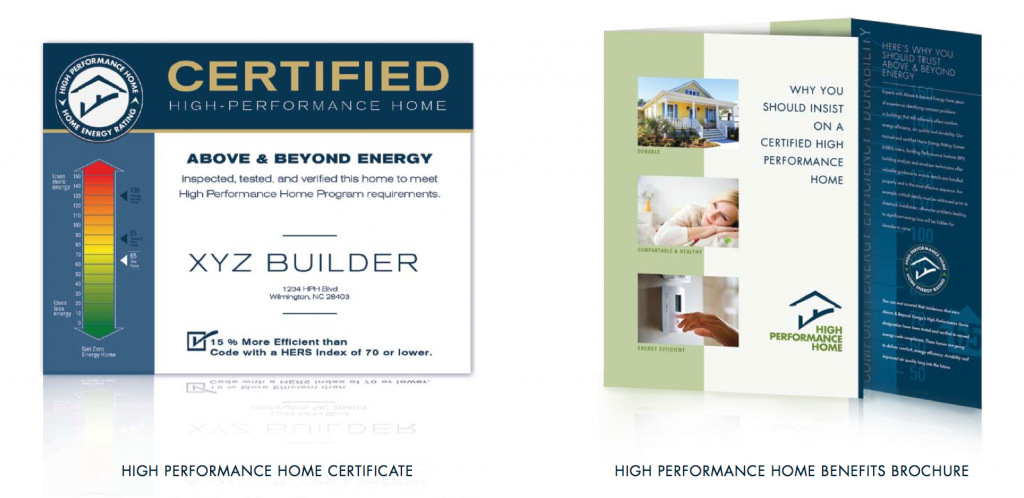 Dual Designation:
It's Easy to Add ENERGY STAR or utility incentive programs to Our High Performance Home Certification
We've already included NC and/or SC Energy Code compliance testing of each home's envelope and HVAC duct system with High Performance Home Certification. Energy efficiency certificates will be posted in the electrical panel of the home demonstrating compliance with the energy code. Additionally, the High Performance Home Program dovetails simply and easily with both ENERGY STAR and utility incentive programs to add even more high performance assurance to the homes you build.
ENERGY STAR
ENERGY STAR certified new homes are designed and built to be 15% more energy efficient compared to typical new homes built in the Carolinas. A new home that has earned the ENERGY STAR label has undergone a process of inspections, testing and verification to meet strict requirements set by the U.S. Environmental Protection Agency (EPA), delivering better quality, better comfort, and better durability.
utility incentive programs
With rebates ranging from $800 to $4,000, various utilities provide generous cash incentives to builders and developers who build new energy-efficient homes and multi-family residences.